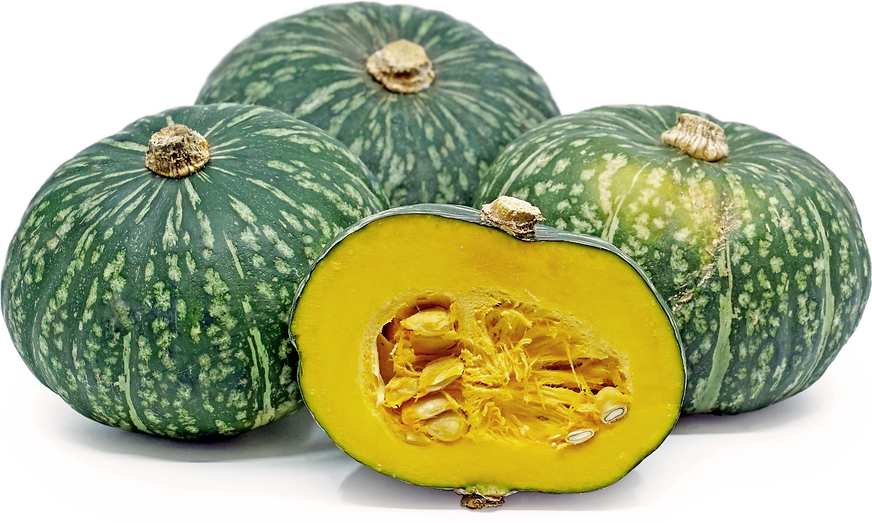 Kabocha Squash
Kabocha Squash
is an Asian variety of winter squash. It has a dark green rind and a sweet (think of a cross between sweet potatoes and pumpkins) orange flesh. It can be fried into tempura, roasted, mashed, stewed, steamed, etc.
Kabocha Squash Soup
Roasted Kabocha Squash
Thai Red Curry with Kabocha Squash
Kale Salad with Kabocha Squash
Delicata Squash
Delicata Squash
is a cream colored cylindrical squash with long green stripes. It has a fairly tender skin (for a winter squash) and therefore has a shorter shelf life - you want to use within a month. Thi
s also means that you don't need to peel it too. It is very sweet and has tender yellow-orange flesh that is excellent for baking and stuffing.
Roasted Delicata Squash with Quinoa Salad
Maple Roasted Delicata Squash and Brussels Sprouts
Autumn Harvest Soup
Spaghetti Squash
Spaghetti Squash
is a smooth-skinned oval yellow winter squash. It has a mild, delicate flavor, and when cooked - drum roll please - the yellow flesh looks like spaghetti. While it can be used as a
lower-carbohydrate substitute for spaghetti, it will still taste like squash, not traditional noodles. But at only 42 calories a cup.... You can boil, steam, bake, and microwave to cook.
How to Cook Spaghetti Squash
Spaghetti Squash & Chard Saute
Spaghetti Squash Pesto
Spaghetti Squash Fritters
Buffaloed Spaghetti Squash
Butternut Squash
Butternut Squash
is a winter squash with an orange flesh and a sweet, nutty taste similar to a pumpkin. As with all winter squash, it grows on a vine is available fall through winter. Butternut can be roasted, added to soups (in chunks or pureed), mashed, and more. It is popular mashed for baby food.
Simple Roasted Butternut Squash
Butternut Squash and Sausage Casserole
Butternut Squash with Quinoa & Spinach
Butternut Squash Chipotle Chili
Acorn Squash
Acorn Squash
- called thus because of it's acorn-like shape - is typically dark green, but can be white, orange, or yellow, or a combination of four! The orangey flesh is a good source of vitamins and minerals (including beta carotene!). Acorn squash is commonly baked - the grooves make it easier to cut in half - but can be microwaved, sauteed, or steamed. You can then stuff the halves, or scoop out the flesh and mash or puree.
Baked Acorn Squash
Forbidden Rice with Acorn Squash
Crispy Acorn Squash Rounds
Roasted Corn Squash Pancakes
Hubbard Squash
Tear-drop shaped
Hubbard Squash
has a very hard, bumpy skin - making them one of the best winter squashes for long-term storage - that ranges from dark to light green and light to dark orange. They have a dense golden yellow flesh. While hubbards can grow up to 50 lbs, we will only give you ones that are in the 4-6 lb range. Because of their thick skin, hubbards are most commonly cooked with their skin on. Cut in half, remove the seeds and roast, cut side down, in the oven until fork tender. You can then scoop the flesh out to use in soups, baked into casseroles, or mashed.
Blue Hubbard Pie
Curried Sugar Hubbard Squash Soup
Apple Stuffed Hubbard Squash
Storage
: For best results, keep winter squash in a cool (60 degrees), dark, dry place for months. Alternatively, you can keep the squash in the fridge or on your counter for a month or so (the length of time depends on how damp/hot/lighted/etc your storage area is and the weather that the squash grew in which affects its shelf life).
Preparation
: Rinse. You can either stab it a couple times and cook whole, or cut in half and remove the seeds and cook as is or cut into smaller pieces before cooking, depending on the recipe. Generally, you will need to peel or scoop out the flesh, but a few recipes keep the skin on. You can generally interchange one type of winter squash for another in the above recipes.