French Breakfast
Icicle Radishes
Your "Basic" round radishes
Black Radish
We have so many varieties of radishes that you'll see in your share - various colors in the ball shape,
White Icicle
,
French Breakfast
(long red and white),
Black
(rough black outside, white inside, larger),
Watermelon Radishes
(round, white-ish/greenish outside, pink inside),
Daikon
(variety of large white radishes that can grow to a foot long; we try to keep them at 4-8 inches). Radishes are members of the brassica family along with cauliflower and turnips.
Storage
: Keep in a bag in the fridge. Use the radish tops within 3 days. The radish roots will keep for weeks.
Preparation
: Wash leaves thoroughly and add to salads or saute slightly. Scrub the roots and chop, grater, or slice as needed.
Watermelon Radishes
Radish and Avocado Sandwich
Radish Top Soup
Pan Roasted Radishes
Cabbage-Radish-Slaw
Thai Corn Chowder
Spring Vegetable Flat Bread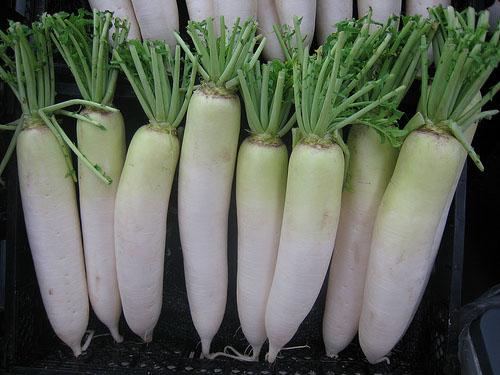 Daikon
Pan Cooked Grated Vegetables and Crunchy Fish
Daikon-Carrot Slaw
Daikon Latkes
Sauteed Daikon
Pickled Daikon
Sauteed Daikon Leaves
Spicy Quick Pickled Radishes