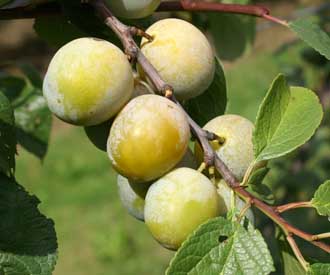 Greengage
Greengage Plums
are a cultivar of the common European Plum. Ready in mid-July, the Greengage has an amber colored skin and firm amber colored flesh. It is very sweet an ideal for eating and desserts.
Methley plums
ripen in mid-July. Sweet, purple-red, Methely's are a cultivar of a Japanese plum. They are good for eating or cooking with (although they are a clingstone).
Santa Rosa Plums
are medium-sized with red skins and yellow flesh. Nice and juicy with a firm flesh, Santa Rosas are great for eating as-is or canning and cooking. They have a nice balance between tangy and sweet.
Methley Plums
Italian "Prune" Plums
are a freestone plum (the flesh does not cling to the seed) and are thus popular in cooking, although they are great to just snack on too. Italian plums are egg-shaped with a deep purple skin and yellow flesh.
Storage
: Keep plums in the refrigerator for up to a week.
Preparation
: Rinse under running water and enjoy!
Santa Rosa
(The following recipes are for plums in general. Adjust the recipes accordingly based on how big your plums are).
Grilled Chicken Breasts with Plum Salsa
Plum Sorbet
Poached Plums with Brown Sugar Syrup
Upsidedown Cake
Plum Sauced Pork Tenderloin
Italian Plums
Tipsy Plums and Raspberries